New Alternatives for improving the treatment of Asthma and Bronchitis.
HYSFLOGEND HEALTH, is a Company established in Chula Vista, California in March 2012. Where we are responsibly committed to honesty. This Company produces, markets and sells a Dietary Supplement called HYSFLOGEND; which has been used by people with Asthma and Bronchitis since 1997.
HYSFLOGEND. The original formula was prepared by an ingenious idea from herbalism more than 25 years ago. It was subsequently evaluated and developed in laboratories in the United States of America. (USA).
HYSFLOGEND is a specially formulated liquid mixture of vitamins, minerals and herbs; designed to help and/or support the immune system. Given the properties and benefits that these ingredients provide, they can contribute very positively to improving these respiratory diseases; such as Asthma and Bronchitis. This supplement may also have Anti-inflammatory and Antioxidant capabilities.
HYSFLOGEND , is presented in its Original Formula: No Dyes, NO Preservatives, NO Artificial Chemicals; and Non-Steroidal.
HYSFLOGEND is a Registered Trademark of the United States Patent and Trademark Office. (USPTO). The Formulation, Analysis and Production of Hysflogend are carried out in Facilities and Laboratories Certified by the Food and Drug Administration (FDA) in the USA.
Posology
Suggested Dosage. Adults and children over 12 years of age will take one (1) tablespoon every 8 hours. Children under 6 to 12 years old take one (1) teaspoon every 8 hours.
Precautions/Warnings. Not recommended during pregnancy. Not during breastfeeding. Not in people with diabetes or gastritis. Do not use in children under 6 years of age.
Indications for use. Keep out of reach of children. Do not exceed the suggested dosage. Keep it in a dry place at room temperature. Shake well before use.
Administration way: Oral.
Presentation: 240 ml bottle.
Sale to the public: Without a prescription.
Benefits
HYSFLOGEND is a product of natural origin that presents: Excellent Safety, Tolerance and Easy Dosage. The results indicate that oral treatment with Hysflogend in humans is a positive balance and works in favor of the health of people with these diagnosed pathologies, contributing to therapeutic success.
Our Facilities are FDA inspected.

Benefits

100% Natural
Honey syrup with natural ingredients and plants extracts.

Real Honey
Hysflogend: Honey syrup with extract from natural plants.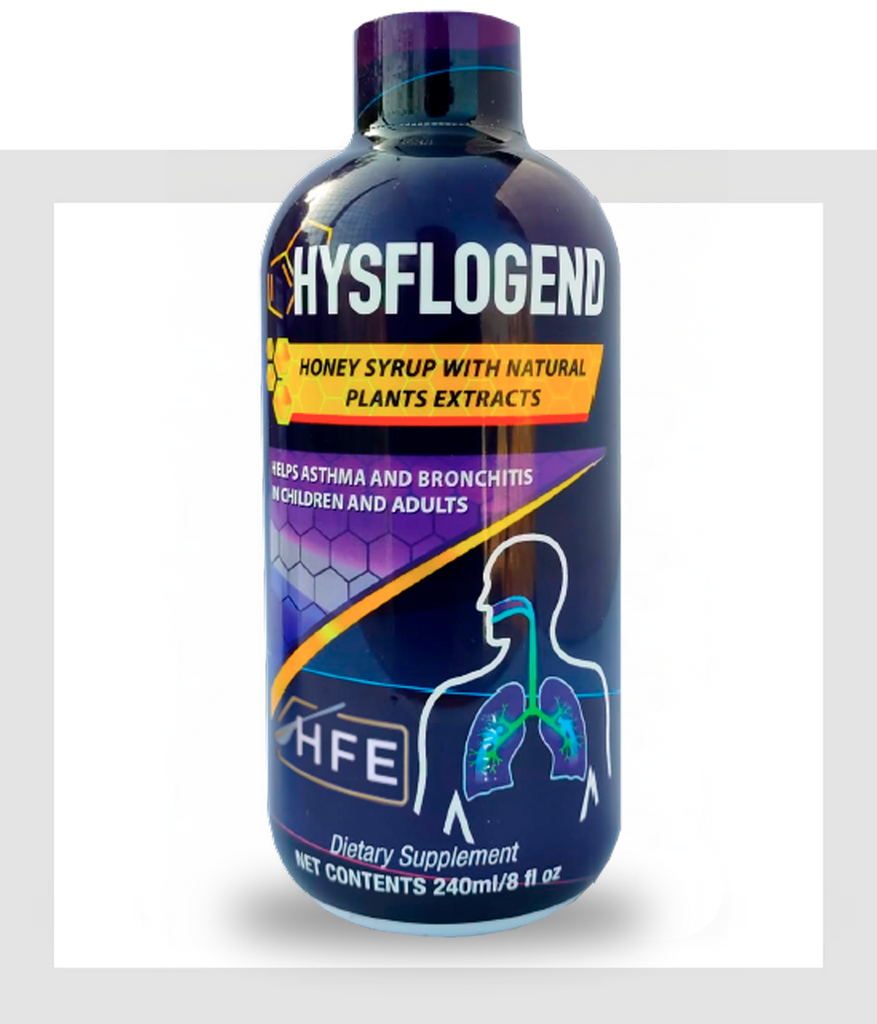 Made in the USA
Distributed by: Hysflogend Health 370 Moss St APT 29 Chula Vista, CA 91911.

Healthy Supplement
Helps asthma and bronchitis in children and adults.